Heart Congress 2018 Meeting &amp Hospitality
Address
Plaza Osaka, 1 Chome-9-15 Shinkitano Yodogawa-ku, Osaka-shi, Osaka-fu 532-0025, Japan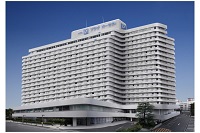 The City
Osaka prefecture located in the center of Kinki region Midwest Japan, but boasts of largest population and highest population density second only after the capital, Tokyo. Mountains surround three sides of the prefecture and the west faces the arc-shaped Osaka Bay.
Home to nearly nine million and powering an economy that exceeds both Hong Kong's and Thailand's, Osaka packs quite a punch. The confident, stylish city is a shopping hub, with fabulous restaurants and nightlife.
It's an ideal base for exploring the Kansai region: Kyoto's World Heritage Sites, Nara's temple and Koya-san's eerie graves are within 90 minutes by train.
Top city attractions include the aquarium, Osaka Castle, Universal Studios Japan and the futuristic Floating Garden Observatory.
Directions
Route Map